2019 Speakers & Celebrities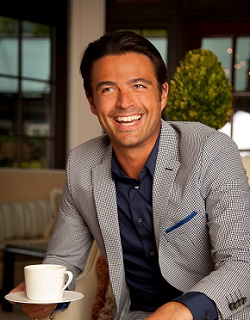 John Gidding
Born in Istanbul, Turkey to a Greek mother and an American father, Can Danny Gidding — pronounced "John" in Turkish— has been subjected to a world of byzantine influences since birth. Art and music were his earliest loves, and he was drawn to both while attending high school in Leysin, Switzerland. Afterwards, he majored in Architecture at Yale, received his masters in Architecture from Harvard's Graduate School of Design, and embarked upon a career as a designer on television, with shows on HGTV, ABC, FOX, Logo and currently on TLC's "Trading Spaces" where John has moved back into the field of art and art's applications for interior design.


John has maintained a steady stream of sketchbooks since 1995, sketching whatever provokes his interest with the same skill, precision, and hand-written notes, that were used by illustrators before the age of photography and was taught to him in Leysin. He splits time between the USA where he lives, and Turkey and Europe where his family lives.
kassina folstad
Kassina lives in St Paul and is the owner and designer of olliePop Design, a full-service design and remodel company serving the Twin Cities and nationwide. Best described as a hybrid designer-contractor-architect, she grew up in an extended family of real estate investors who built houses then moved every 2 years. There's even footage of her as young as 9 hammering in nails on the 2nd floor of their family cabin (without guardrails!).

With her extensive knowledge of construction she set off to bring amazing design to her family's investing business by going to school for design and architecture, then did her own real estate investing for 15 years. It wasn't until her daughter almost died during childbirth that she was forced to change directions and start designing + remodeling for others. What started as a tragedy turned into a blessing as she's now nationally recognized for her design and has folks knocking on her door for TV shows. She is committed to bringing amazing design to her spaces all while maintaining a sense of resale value, a fierce combination unlike anyone in the Twin Cities.
You can follow her journey on Instagram.